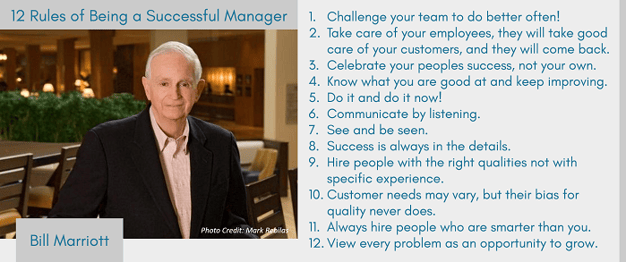 There is so much to learn from those who have proven themselves to be great in their field. So who better to learn from than the great hotelier himself, Bill Marriott. I have enormous respect for this man and the empire that his family built beginning in 1927 with a nine-stool root beer stand that grew into the Hot Shoppes Restaurant chain and evolved into today's Marriott International hotel company. His success is obvious, but what I love about this company is the attention to important details that are always put forth by a simple, basic, and very actionable message, as you can see above in Mr. Marriott's 12 Rules of Being a Successful Manager. This is how 90 years later Marriott business is more than booming.
If you are a first-time manager, you now are responsible for leading and motivating your team to accomplish goals for your organization. Now what? If leadership is a new role for you it can be quite intimidating knowing there is a group of people looking to you for answers. Many young managers learn through trial and error regarding what works and what doesn't, but there are things that can make this transition easier. Mr. Marriott's list is a great tool to continue to sharpen, or begin to sharpen, your managerial skills.
I believe in all 12 rules, but for me, #2 is one of the most important to execute. One of the biggest mistakes a company can make is failing to develop solid working relationships with their employees. If the employee feels the focus is only on performance and productivity, and not about getting to know the person by establishing a relationship, the message about taking care of the employee and they will take care of the customer, will be lost. Learning not only what is important in their careers, but also in their personal lives, helps build the rapport needed to foster this rule and several of the others.

Becoming a successful manager is the goal and getting there takes commitment and hard work. Being a new or middle manager is not easy. The good news is that, as a manager, you get to lead, mentor, and motivate others, and much of the companies overall success depends on how effective you are in this role. So grab all the resources you can to help yourself learn how to be the best manager you can be.
Click here, or on Mr. Marriott's picture above, to copy his list and keep it as a visual guide for focusing on being the best manager you can be!
---