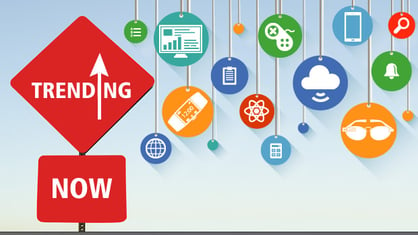 As we begin to get comfortable with the New Year, it's always interesting to look at what is being discussed and predicted for the months ahead. Skift is an online news magazine that puts out reports on the hotel industry's automated future. Associate Editor at Skift, Deanna Ting says, "We make our predictions for some of the biggest trends that will impact the hospitality industry and the overall guest experience."
Trends in the hospitality industry will always continue to evolve from year to year. Skift reported that last year's trends centered around mega mergers and acquisitions, as well as direct booking wars from online travel agents. 2017 promises to be a year of change, especially with the new administration, not to mention our new President is a hotelier.
Let's look at what Skift's look into this year's trends in the hotel guest experience brings:
Co-Everything
Trending now, which will permeate much of the hotels guest experience is co-living arrangements, pod hotels, poshlets, co-living/co-working space, airbnb and HomeAway. Skift says, "In 2017, expect to see even more emphasis and investment on communal areas, as well as on spaces and experiences that bring people together."
Good Design Goes Mainstream
Design has always been, and will always be, important for the guest experience. Guests expect to see a nice design and layout to the room and hotel. Design often dictates the overall feel of a hotel or brand.
Experiences Beyond the Hotel
Hotels are giving more focus to the guest experiences, not just inside, but outside as well, with tours and activities. In 2017 we should see more hotels providing these types of external experiences.
Concepts of Loyalty Need to Evolve
Hotel loyalty programs remain very important and are considered a large part of hotel strategy to maintain and capture customers. However, there is a great hope that hotel companies won't follow in the footsteps of the airlines. Skift says, "

Hotel loyalty as it stands today is entering an age of awkward adolescence, the result of multiple consolidations and changing consumer behaviors and expectations. In 2017, hotels have a golden opportunity to redefine what real hotel loyalty is like and we hope they seize that chance."
Hospitality Will Rediscover Its Roots
The heart of the hospitality industry should always center around people. In our fast pace world of technology and focus on efficiency and profit, we need not forget humanity. Niki Leondakis reminds us, "The basics of hospitality have been compromised to make room for innovation, but the best innovation comes from the inside out," Leondakis said. "Creativity happens when our employees are empowered and they are not feeling any fear."
"Local" Will Regain Its Meaning
There is a hope to see hotels thinking more about their local community. They are predicting that hotels will bring back the role they had of becoming more like a community center. AccorHotels CEO Sebasiten Bazin said, "There are "zillions of services we're going to get into," among them having hotels assist locals with simple tasks and solving everyday solutions like holding packages or keys or recommending the best services nearby."

"[The hotel will be] a place that will make your life easier," he said. "It's giving a purpose to the Accor people, because they're going to be feeling very proud, proud of bringing that additional service that people need, and are afraid of asking for."
Luxury That's Leaner and Smarter
What Skift is saying is, "that lean luxury is doing away with the excess of what we used to think luxury used to have — those over-the-top messages, the logos, the in-your-face-kind of luxury we might have encountered 30 years ago. Instead, lean luxury is about the new luxury, about offering travelers a more authentic, genuine luxury experience unfettered by specific brand or quality standards like thread counts." Personalized service and having a clearer sense of community and place is what is defining lean luxury today.
The Smart Hotel Emerges
In 2017 we can expect to see more on-demand technologies in guest rooms. Streaming in-room entertainment will continue improve and make its way into hotels.
Expect Even More Brands To Emerge, Both New and Familiar
In 2017 they say to expect to see even more non-traditional hotel brands. Bjorn Hanson, clinical professor with the NYU Preston Robert Tisch Center for Hospitality and Tourism, said, "he thinks this trend isn't going away anytime soon, either, driven by the growth in new hotel projects and the fact that boutique has gone mainstream."
Data Interpretation Is the Ultimate Intelligence
As the hospitality industry continues to collect and mine data, they now need to know what to do with all the information. Chip Conley says, "

Where hotels are way behind is data science. Data scientists represent what revenue managers represented 25 years ago."

Skift reports that in 2017, the hospitality industry needs to prepare and look beyond their own industry and learn as much as they can.
There you have it, well, at least one look at some interesting predictions. It goes without saying, this industry will continue to evolve and change, and it's exciting to be along for the ride.
---