In the hospitality industry "wow factor" is a phrase not only used, but something the industry strives to achieve in the service they provide. There is a short list of companies that are noted and revered for consistently achieving this service level. The challenge that we see is executing and delivering the "wow factor" is often misunderstood.
Here's what I mean, as a consumer, we expect a certain level of good, consistent service and anything above this is a bonus. This isn't close to the level of service we are talking about regarding "wow." Studies show that 65% of customers that are "satisfied" will end up taking their business somewhere else for a better offer (better service). Customers are not "wowed" by expected service, but rather by the unexpected service provided that met a need they didn't even know they had. This is what separates the "good" from the "great."

Great service is on purpose, it is a calculated service execution and understanding from every employee in the company. It is an attitude that runs deep in the company culture. How do you get this started or improved on in your company? Here is a cheat sheet of best practices that, if diligently followed, will get you moving in the right direction: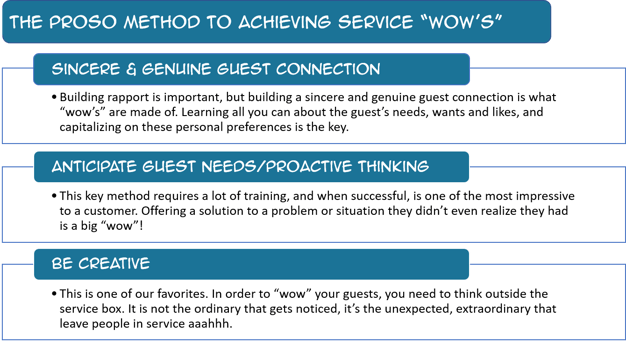 These three actions, when given the right focus, will create the new service wave within your company that will result in your customers' saying, "WOW, that was a great, unexpected experience." Good luck, and we would love to hear your success stories on how these worked for you!

---