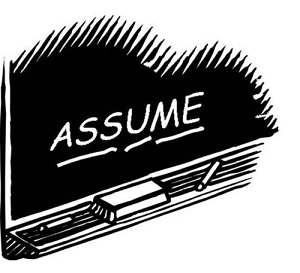 Don't assume anything. Just because something worked before doesn't mean it's working now. You can't rely on what once was. You have to deal with the here and now.
- Tabatha Coffey, Own It!
---
We all know what everyone says about assumptions (or, at least, I assume we do). And yet we still find ourselves in disbelief when a common procedure suddenly fails on us. Even worse, we often don't realize it has failed because we are assuming that something that has worked that long will surely follow its own inertia and work forever. How very wrong we are.