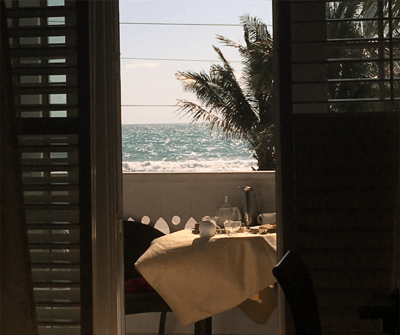 In the last two months we had two very different hotel experiences in two different beach towns. The impressions that were left with us are so contrasting. I have now truly realized how my overall happiness, like many of today's travelers, is driven by the experience rather than the money I spend or save. There is much for every business to learn from this, which I will summarize after you first read the snapshots of our two hotel stays...
#1- Less is Definitely Not More

Construction blocked the easiest arrival to the porte cochere, but we found our way to the entrance where the valet attendants were attending to other guests. Once in the lobby, we waited in a small line for check-in. The associate was plenty pleasant, but certainly did not go out of her way to make any "small talk" or to offer any suggestions for things to do on-site or in the local area. The hotel room, at a price of $249/night, was mediocre at best. The appointments were outdated, carpet had stains, and the private balcony's furniture and deck were covered in bird droppings and small pieces of trash from a previous guest. Throughout the stay, the hotel's associates offered okay customer service, but nothing memorable. When attempting to dine for breakfast at their restaurant on two mornings, the wait was over 30 minutes. When ready to enjoy a cocktail at happy hour, the bartender told us that the bar would open in 5 minutes (which was 5 minutes late). On the morning of check-out, the bill with the room charges was inaccurate. Our efforts to get these corrected were frustrating.

#2- High ROI

Upon arrival, we found parking right in front of the main registration building for "arriving guests." Once inside, we were enthusiastically welcomed, offered a cold beverage and cookies, and warmly spoken to about our travels and vacation plans. The guest room, at a rate of $379/night, was impeccable and immediately gave a sense of luxury and relaxation. Music played from a bose sound system, which was hidden away in the closet, ice bucket was filled, and all furniture and accessories felt custom selected for this particular room. When enjoying the perfectly maintained grounds, hotel employees would greet us excitedly, ask if they can do anything to assist, and often offer a cold beverage. Each morning the breakfast was set up beautifully on our clean, private balcony at exactly the time requested. It was absolutely delicious. At happy hour, we discussed our day with the attendants, and they always gave advice for what we can do and try next during our stay. When it was time to leave, we were sad to say goodbye to not only a beautiful hotel, but to our new friends.
Although the 2nd experience was 52% more expensive than the 1st one, we felt like every dollar was more than worth it; hence, the very high ROI based on our experience. On the other hand, the $249/night seemed way too high; we walked away feeling stressed that we spent too much on something that left a bad impression. It's a horrible feeling when you feel like you have paid too much for something you did not get.
What we can learn: We are in a service economy, so customer service, relationships, and lasting impressions are the drivers of your success. Key concepts to remember and incorporate into your businesses:
Make sure the first impression is strong and positive.
Build rapport at each touch point. Does not have to be in any major way—smiles and sincere greetings can go a long way.
Remember your customers and cater your conversations and service to them as individuals.
Deliver a product that you are proud of and can be confident about.
Surprise your customers with features and service that leave a lasting impression.
Invest in the happiness of your customers by thinking beyond the obvious.
Remember too that it's a digital age, and word travels fast and spreads far, so make sure your customers are recollecting details about your business that are like #2, definitely not #1. I can guarantee that we will be back to #2, and they are also gaining the patronage of several people we have told about our amazing experience. I can also guarantee that we will not go back to #1, and if anyone asks about places to stay in that area, we will tell them that #1 is not worth the money.
(You might wonder why I am not stating who these hotels are. We do not want to use this outlet as a way to give #1 bad press, but if anyone wants to know who #2 is, please feel free to email me.)
---