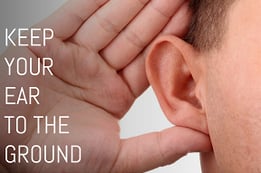 Constantly query employees. As a leader, you have to keep your ear to the ground and listen for the sound of complaints from your staff. It helps to have a process in place to root out process problems and then follow up to make sure they're resolved.
-Lee Cockerell, Creating Magic
---
No matter how involved you are as a leader and executive, no one knows what is really going on "on the front lines" like your employees. They are an incredibly valuable source of data about what is working and what is not, both for them and for your customers. As Lee Cockerell highlights, it's a best practice to have a clear and simple system in place to help bring the areas of weakness or difficulty your employees pinpoint to light. However, quite often a single system doesn't uncover everything because sometimes employees are reticent to say anything so as not to appear negative or to "rock the boat." Other times, your employees may not consciously realize something needs improvement until you explicitly ask questions to probe for ideas.
So start today: whether you already have a formal process in place, try asking your employees one-by-one or in groups for standards or policies or equipment or anything else that is a pain point for them or your customers. Then keep asking at regular intervals; this is certainly not a one-time activity, but an ongoing policy of keeping in close touch with the "eyes and ears on the ground." And as a double bonus, this activity almost always increases employee satisfaction and engagement, as you are clearly demonstrating how much you value each person's input.