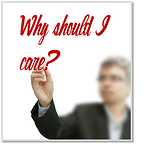 During the planning phase of your presentation, always remember that it's not about you. It's about them. The listeners in your audience are asking themselves one question—"Why should I care?" Answering that one question right out of the gate will grab people's attention and keep them engaged.
- Carmine Gallo, The Presentation Secrets of Steve Jobs
---
In his book, Mr. Gallo tells the story of a CEO that he was assisting with a presentation. He explain that the CEO originally intended to start off the presentation with this opening: "Our company is a premier developer of intelligent semiconductor intellectual property solutions that dramatically accelerate complex system-on-a-chip designs while minimizing risk." While all the information is almost certainly true and his opening is highly descriptive, it's hard to follow and doesn't deliver the impact that the CEO intends, despite (or because of) the buzzwords included.
To overcome this, Mr. Gallo helped this CEO consider the question of why his customers (and the audience at his presentation) care about his product and rewrite the introduction. He decided to begin the presentation by asking the audience to hold up their cell phones, and he would start, "Our company creates software that is used to build the chips inside many of the phones you're holding up. As those chips get smaller and cheaper, your phones will get smaller, last longer on a single charge, and play music and video, all thanks to our technology working behind the scenes." Now that is an opening that would grab your attention and give the speaker all the credibility he needs to begin the presentation with a rapt audience.
So try this yourself. Every time you need to give a presentation (or answer a customer's question, create a marketing email, or really do anything customer related) recenter yourself around the client's question—"Why should I care?"