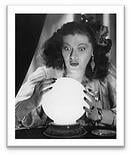 Part of looking ahead as a service provider is asking a simple but compelling question: What is happening that will affect my service business in the next year? From the information you collect in answer to this question, you can make assumptions that will help you anticipate the short-term future. The question should be asked about the following outside influences: the status of the local or national economy, a threatened strike in a related industry, the inflation rate, the status of major competitors, the economic well-being of a major industry or your client in that industry, a major technological innovation that may be either expected or unexpected.
- Jean Withers and Carol Vipperman, Marketing Your Service
---
Maintaining a successful business is not only managing the day-to-day affairs, but trying to anticipate what might be coming in the future so you can proactively prepare. Since most of us don't have access to a fortune teller with a functional crystal ball (if you do, please contact us here), we have to find other ways to brainstorm future possibilities. Figuring out where to start with such a brainstorming session is difficult, so the suggested areas of focus that Jean Withers and Carol Vipperman provide us are especially helpful. Try making yourself a simple table with columns for "potential change," "impact on our business," and "what we can do now to prepare," then go down the list of outside influences listed above, along with any others that seem relevant to your particular business.