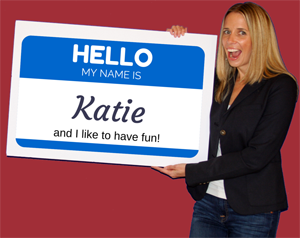 Let's make customer service fun. Why? Because you do better when it's fun, and if you aren't having fun, it's time to evaluate why. Now the "why" could be for a lot of reasons outside of customer service, but I just want to focus on service. How exactly do you do better when you are having fun? Many reasons, but the biggest are that it leaves a lasting impression on your customers so that they want to return for more, and you feel so good doing it that you want to do it more!

How can you have fun with customer service? Here are some examples that will help to inspire you to take strides at adding fun into your customer encounters...
Your Takeaway: Do something memorable and fun with your greeting.
Disney World gives out personalized birthday pins to guests on their birthdays. Some cast members even take extra time to use pretty scripting and to add more customization on these pins. And guess what? When you walk around wearing one of these pins, you better believe that countless cast members will wish you a Happy Birthday! I'd say that this little extra makes for a very memorable experience that you will brag about.
Your Takeaway: Recognize special occasions in a creative way.
Costco serves free pastries and coffee in the morning to their customers. Talk about a nice welcome since that sugar and caffeine will certainly jazz you up for shopping in their store! And let's be honest- you know LOTS of customers will choose to shop there more often and will make extra visits just to get the freebies.
Your Takeaway: Create a fun draw to get customers through your door more often.

Southwest Airlines flight attendants often turn their job into a stand-up comedy routine, especially when giving the safety demonstration. Flying today can be stressful, so by adding wit and humor to the experience, these attendants are setting the stage for a better experience. When flyers have a choice of who they'd rather fly with, you know that they will choose fun over no fun at the same price.
Your Takeaway: Turn mundane tasks into something different and magical.

And how about Tijuana Flats and how their team consistently finds pleasure in quickly serving you and refilling your drinks, without being asked by you? Also, (this one is for all of you women out there and for men who want to buy their special lady something!) at Kendra Scott stores, their employees are genuinely thrilled to assist you, and they have developed a unique, fun alternative with their Color Bar which allows you to create pieces specific to your needs. Now that is a great way to make it FUN for the customer!
It's your turn to reinvent your customer service by creating your own differentiated "fun" practices and stories like the above. Make fun a part of your culture. When you do, employee retention will be higher, and your sales will increase.
We love hearing from you, so please share with us how you will make your customer service more fun in the comments below.
---