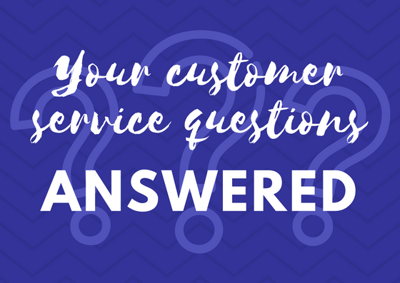 Time to roll up our sleeves again and to give you the answers you are craving! Below is the second in this series ("Round 2") of answering some of your questions. And don't be shy, share these tips and feedback with others. Your customers will be happier, and your bottom line will then thank you.
1. Is the customer always right?
This philosophy dates back to 1909 when "the customer is always right" phrase was popularized by successful retailers such as Harry Gordon, John Wanamaker, and Marshall Field. While the intent of the message is positive, the reality is that no, the customer is not always right. In fact, when this phrase is put into action, it actually leads to worse customer service. Some key supporting points:
The customer can be wrong, make mistakes, and be irrational. Does it serve your business well to reward a customer that is, quite simply, bad for your business?
If the customer is always right, do employees feel valued? No, it makes them feel miserable. And when they don't feel valued, they will deliver bad customer service.
If you give an abusive customer all of the power, they get better treatment and conditions than the "nice" customers. Is that fair? We think not.
2. I have bad news to deliver. What is the best way to do this?

This certainly depends on what the news is that you need to deliver, but generally speaking, always try to use positive language. That way, the tone of your message does not focus on the negative. Instead, you can focus on the proposed solution. For example, let's say it's check-in time, but the hotel room is still being cleaned.
Negative Language: "You can't check in right now since housekeeping is still cleaning your room."
Positive Language: "Your beautiful king-bed guest suite will be ready in 20 minutes; we are taking our time making it perfect for you. In the meantime, please enjoy our complimentary beverages and cookies, and I will text you as soon as it is ready."
3. I have been told that the faster that I can serve a customer, the better. Thoughts?

Speediness is important, but delivering a high quality return is more important. For example, in the situation mentioned above regarding the hotel room that is not ready at check-in: what if the hotel decided that getting the guest into the room faster was more important than ensuring that the suite was completely ready? Speed won't compensate for a messy, unclean, and haphazardly put together hotel room. Instead, proper time should be taken to ensure that the first impression of the suite is impressive, which will make them quickly forget (hopefully!) that they had to wait a little extra time to get in there. Plus, add an extra touch when you can to acknowledge your appreciation for their patience- like a simple box of chocolates with a thank you note that says, "Thank you for allowing us to have extra time to make your home away from home most comfortable for you."

4. What are a few service "wows" that I can do that are low cost and leave a meaningful impact?

Unexpected "thank yous" are an absolute favorite (like the example above)! We are immersed in this tech age where so many of our messages are impersonal and/or automated. So something as simple as a handwritten "thank you" note is truly unexpected and can be such a surprising, thoughtful gesture. Other "thank you" ideas are to send a box of cookies, make a charitable donation, call the customer just to say "thanks," etc.

---
Your wheels are turning, and now you have other questions for us, right? Send them my way or place them in the comments below, and we will be sure to answer them in a future article. We are thrilled to share our knowledge with you so you and your team can be your best at customer service. And go ahead and tell someone on your team or a customer "You Rock" (download this printable below!)- that customer service effort will mean the world to the recipient(s)!

---