Yes, we are going back to the basics. Why? Because when you are losing races, your track coach will tell you to focus on not allowing your arms to cross the center line of your body, keep a loose grip, and more. If you want to make countless sales, "getting back to the basics" is the surest way for you, and your team, to improve your conversions which equates to an increased bottom line. "Sloppy selling is an unafforable luxury," says author and coach Anne Miller. Knowing how to ask the right questions so you can effectively feature and benefit sell with a smooth, polished, and natural approach is a critical and very affordable luxury within your reach.
We all know that the easiest way to sell your products and/or services is to info spew about features. But, this is lazy selling and gives our customer no compelling reason for reaction. We should always take our selling to the next level; we should always first ask questions (discovery) so that we can then cater our pitch to include the benefits that are most appealing and inspiring to make our customers buy.
An Example...
Last weekend I was at a furniture store with my mother-in-law on a mission to help her choose the perfect sofas for her new home. Our overly enthusiastic salesperson descended upon us lightning fast and cheerfully spouted off every feature he could think of to describe the sofas that we were casually considering. His simple, scripted approach was enough to make us walk away, but then he surprised us. He started over. He learned about what my mother-in-law's needs are based on space, comfort, and use, and this gave him the ability to reel us in with some sales' points that convinced her to consider and then ultimately buy. For example, not only could we return or exchange these sofas free of charge, as many times as we want, if they did not meet our needs once actually in her home, the beautiful leather sofas have a protection plan that guarantees that no matter what my young kids did to them (envision spills, "washable" markers, etc.), the sofas would either be repaired or replaced - at no additional charge. These are the benefits that our sales person highlighted that hit home with us, and within 3 days, my mother-in-law was already able to sit on these perfect sofas. Way to go, Havertys!
Your "Back to Basics" Training...
Features and benefits are a part of sales because they answer the question "so what," and they make the presentation more concise and convincing. A thorough "discovery" will help you to identify the features and benefits you will need to highlight during the balance of your conversation, so ASK questions and CATER your pitch to what you learn. Always sell solutions to your customers. When selling features, consider questions such as:
Why is it better?
What is the advantage?
What will it do for me?
How will it feel to have it?
How will it improve my life, job, or whatever?
The answers to these questions are the BENEFITS. Features have to be supported by benefits because the benefits are what turns a "maybe" into a "yes." Practice, practice, practice- the more you practice, the better you will be at benefit selling.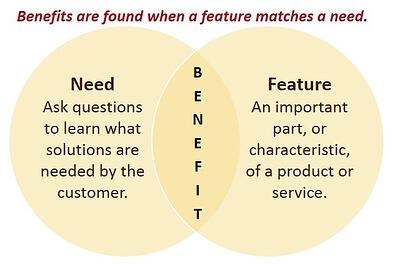 In Summary...
If you have properly asked your customer the right questions (discovery), by the time you have completed your customized explanation of features and benefits, you will have delivered exactly what the customer is looking for and received numerous statements of agreements from him/her. This, of course, is when the fire is the hottest! Your customer knows that you are on the same page, he/she knows that you understand his/her needs, and this gives you enormous credibility. You will win the sale.
---
If you like what you read, we have a number of products and training that may be of benefit to you and your team.