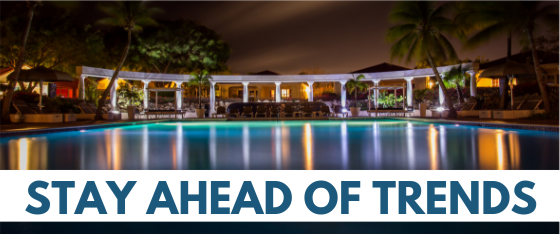 The economy is strong, customer preferences are expanding, and technological advances are moving at a fast pace. So what does that mean for the hospitality industry, more specifically hotel strategists and leaders? If hotels want to be major, thriving players, they better recognize what is happening in the hotel marketplace and try to keep pace with the trends, or better yet, be trend setters.
29 members of our research consultant team gave us insight into what they see and hear in today's hotel arena. These individuals are in contact with >15,000 hotels each year, which means they obviously have a great perspective and understanding of what is truly happening. Below are some questions that we asked that we are certain that all hotels need to know the answers to in order to stay competitive and ahead of the trends.
What are the most intriguing/key selling points that hotels make when they are trying to convince you to book overnight rooms with them?
Highlights of recent renovations

On-site or close to intriguing amenities and attractions

Award winning chef

Green initiatives and sustainability efforts

Innovative technology featured in guest rooms and/or public spaces

Organic gardens on-site

Online ratings on reputable sites


Mobile everything: Self check-in and check-out, paying, keyless access
What hotel room features have you heard/read about that you find the most innovative or intriguing?
Premium in-room coffee bar with Keurig machines and coffee pods

High thread count, luxury linens and high end toiletries

Wireless charging stations

Smart TVs and bluetooth speakers

Smart devices available in the room for ordering of In Room Dining & reading magazines/newspapers

Virtual Concierge

Ergonomic work space

In-room workout equipment
What hotel features/outlets/amenities do you feel are the most trendy right now?
Innovative technology

On-site gardens used for fresh ingredients in their restaurants/baquets


Room Service Express

Trendy bars (rooftops, especially), inventive cocktails, and craft beers

Outdoor bath in spa and holistic treatments

Sustainability and green initiatives

Adult-only areas/amenities

Healthier, regional food

Sleek, modern designs
Any surprises? Are there things that your hotel needs to hurry up and pay attention to and start an initiative to include in your hotel? We have more feedback than this for you, so be on the lookout for more insight in weeks to come. And if you have any questions or additional input on what you see is the wave of the future for hotels, please feel free to share in the comments below.
---