When you think of training, do you only think of it with a capital "T"? You are not alone, many of our customers come to us with the same thoughts, thinking that the only effective training is the formal, longer training class. We like to educate our customers that training can be so effective in small quick hits. For example, we find that our mystery shop's evaluations are perfect to use for swift training, not only for the manager/agent that was mystery shopped, but your entire team can learn from this exercise. For example, managers can take one or two points from a shop evaluation and use those topics to train the team. Managers can generically talk about the points that were made during the shop call and use our suggestions to train the team on how best to handle those points on future customer calls or situations.
We always want to provide our readership with educational materials that you can use to better the skills of your teams. In keeping with the theme that training can be quick and pointed topics and still have high value, below is an eBook that will aid you with some quick skill enhancements on problem resolution. One being: all customer problems are actually opportunities to win back their loyalty and create even stronger relationships than before the problem ever happened! In order to get the most out of this eBook, here are 4 Quick Tips on how best to use this book with your team:
Download the eBook and makes copies for your individual team members.

Take one point from the eBook and start the day off with a quick email to your team. For example, remind them of the importance of their response time to their customers and challenge them to improve this skill.
Try doing a quick stand-up meeting each morning for a week with your team. Select a couple of points from the eBook and ask them questions. For example, "Your customer is upset about (state a specific issue), how would you apologize and show empathy?"

Keep the focus on the 5 Steps of REACT and make them visual around the office; posters, screen savers, etc.
Everyone needs help when it comes to problem resolution. Problems will arise, and employees need to be trained to anticipate and identify potential problems, as well as have the experience to make decisions and to deliver skillful solutions to these issues. Please use this easy-to-read and understand training via this eBook as its tips will further improve and train your team to be the best they can be!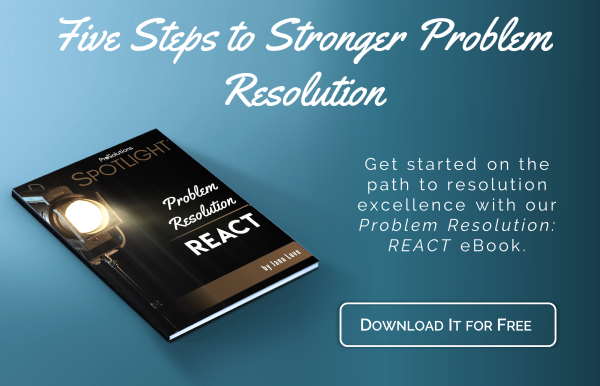 ---