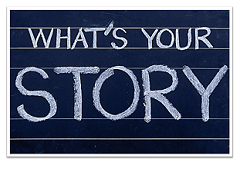 At the most basic level, effective marketing is good storytelling. It involves using a variety of means to communicate a cohesive message about your company. Part of that message relates to the products and services you offer, but the rest has to do with the experience, or even the benefit a consumer gets from doing business with you.
-Kirk Kazanjian, Driving Loyalty
---
Humans love a story. From our earliest days, we love having stories told to us (and we never tire of having the same story repeated over and over and over), so it's no surprise that even as we grow up, the most compelling marketing messages are also often stories. Our memories for stories are also significantly better than for other types of messages (especially those centered strictly around facts with no narrative), so there is an added benefit in terms of recall.
So try this simple exercise: what is the next thing you want to market? Now put yourselves in the shoes of someone about to tell a story to a child. What is the story you could tell that would make your product/service compelling to this child? This may seem overly simplistic, but thinking about it from this perspective will help you break things down into their simplest and most understandable forms. You can always add more flourishy adult-focused language later once you have mastered the heart of your story.